This article was originally published in TopRecruiter.co.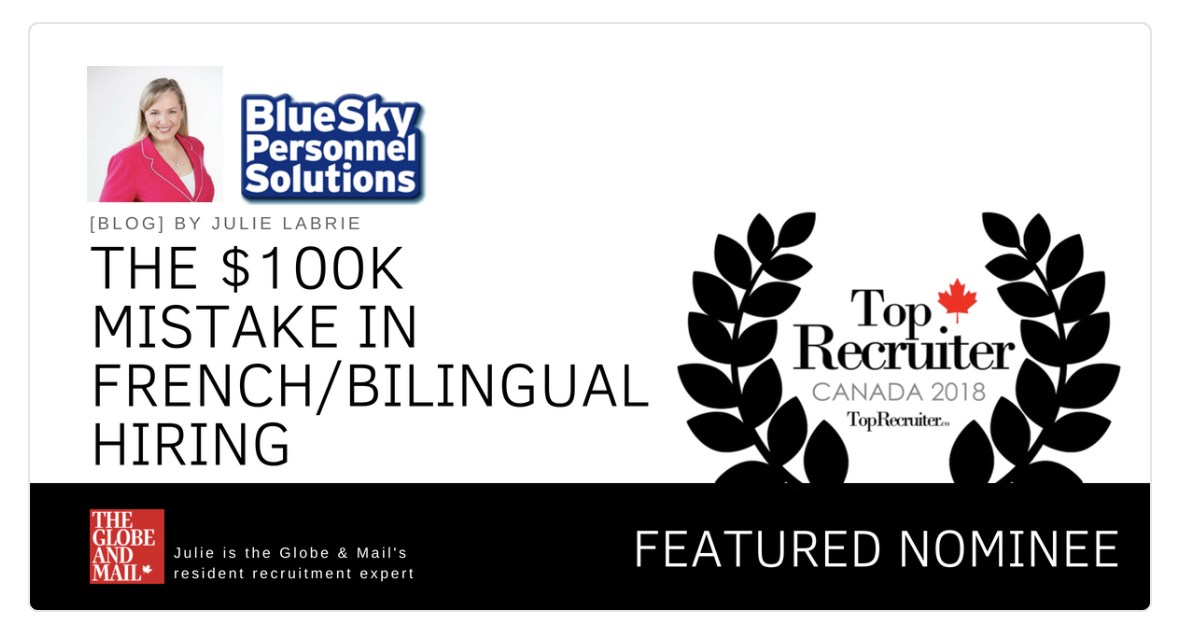 How much can the wrong hire cost a company? Beyond the obvious administrative, on-boarding and training costs, or lost productivity, what's really at stake if customers or clientsbecome disgruntled?
You may have heard of the saying: "Upper management hires, but front line workers pay the bills."
Sometimes those bills represent a simple $20 purchase. At other times, it can represent a$100K B2B purchase, or even a million-dollar key account.
When big accounts are involved, big potential risks are also at stake, and these may not be top-of-mind during the hiring process – especially when it comes to French/Bilingual hiring. And yet, the risk is very real.
As French/Bilingual recruitment specialists, we've seen, more than once unfortunately, companies coming to us for help in finding French/Bilingual talent after they have been burned from a bad hiring experience.
Some companies will manage the Bilingual hiring process internally, without having someone fluent in French to be part of the process. All too often, hiring managers take a candidate's
word for their bilingual abilities. It is only when clients of those companies escalate their issues and complain that the new hire can't speak French properly, that hiring problems reveal
themselves.
We've seen this turn into a costly $100K mistake before, when frustrated clients of those companies decide to take their business to competitors.
Here are 5 tips to avoid these $100K mistakes:
1. International French or Quebec French? The first step is to consider who your French/Bilingual new hire is serving. In areas such as Montreal, international French
works well, given the city's diverse, multicultural population. In serving rural parts of Quebec however, if your French/Bilingual candidate can't pick up on cultural nuances and some of the linguistic uniqueness of Quebec French, that could present a problem.
2. Fluency and clarity are key: Never just take a candidate's word for it in terms of how proficient they are in French. We see many candidates who aspire to speak well, but just don't have the language skills needed on the job. Moreover, written tests for French comprehension is not enough in most French/Bilingual hiring situations. We provide oral tests on behalf of our non-French speaking clients to check for fluency, clarity and their ability to understand different French dialects.
3. Timing is everything in this market right now: Forget #YOLO (you only live once) or #FOMO (fear of missing out). There's a new term trending in our world right now:
#FOBO (fear of better options). Hiring managers can get worried that in giving one job candidate their offer, they may be missing out on a better candidate out there. But, the reality is: fully French/Bilingual candidates in English Canada are in such high demand right now, they are even hotter than the Toronto real estate market! In my nearly two-decades of experience in French/Bilingual recruitment, I have never seen so much talent being presented with multiple job offers, and being scooped up almost instantaneously.
#FOBO today can almost guarantee that you're going to have to settle for second best imminently.
4. 2+2 can equal 5: great Bilingual talent is like getting two-employees in one, who can serve the entire Canadian market. But we are seeing a new trend in the marketplace today where many clients are no longer hiring one sole employee to expand their service into the French Canadian market. Seeing the value of having multilingual talent, many organizations are building full service teams to do so.
5. Niched expertise for niched hiring delivers the best ROI: our clients come to us because of the depth of expertise we've amassed over the years. In testing for French language fluency and clarity for example, we use many tools at our disposal, from dialect-testing to code-switching. And, we overlay that with our extensive experience in finding the right company fit for our clients too, so positions are filled quickly, and with the right people. Most importantly, because our core focus is French/Bilingual recruitment, we are networked with the best talent in the marketplace. This means, we can recruit the best job candidates for our clients, even when those candidates who aren't actively job-searching.
At BlueSky Personnel Solutions, we not only help our clients in finding the best French/Bilingual talent, we also consult with general recruiters when they need to tap into our specific expertise in this area. If you have any questions about French/Bilingual recruitment, please don't hesitate to reach out any time at: [email protected], or call us at: 416-236-3303.