Members of our team will be Vegas-bound this week, as a finalist in the 19th annual Stevie® Awards for Women in Business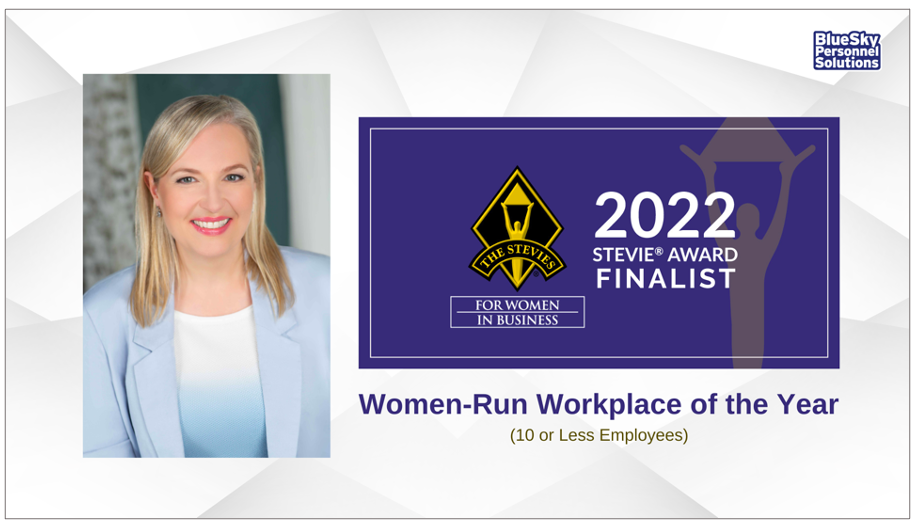 The prestigious Stevie Awards for Women in Business attracts organizations from across the globe, and recognizes the achievements of women executives, entrepreneurs, and the companies they run. The Stevies as they are often called, are widely acknowledged to be the world's premier awards for outstanding performance in the workplace.
This year, this international competition received more than 1,500 nominations from 27 nations, and we're thrilled to report that BlueSky Personnel Solutions has been recognized as a 2022 finalist, under the category: Women-Run Workplace of the Year (10 or less employees)!
We will find out if our agency has won, this Friday evening (November 11, 2022) during the awards dinner at Caesar's Palace in Las Vegas, Nevada. Members of our team will be Vegas-bound this week, to join close to 500 women and their guests who will be in attendance that night. The awards presentations will also be broadcast live around the world on Livestream.  😃
The judging for these awards is truly an international effort. This year, more than 150 judges organized among seven judging committees, generously gave their time and insights to these efforts. Experts in the Company/Organization & Achievement Awards Judging Committee had representation from countries including: Australia, Bahrain, Canada, Hong Kong, India, Pakistan, Philippines, Turkey, Singapore, the UK, and of course, the US.
As we celebrate this accolade for our company, we want to share our gratitude with you – for being an important part of our community, and for supporting us the way that you do. As such, we would love to invite you to follow us on social media, as we share real-time updates from the awards show. Here is the link to all of our social media handles (and if we're not already connected, please reach out to us on your favourite platform): https://blueskypersonnel.com/linktree/.
_____
Note: If you are looking for the best Bilingual/French talent to bolster your team, please give us a call, or email us today at: 416-236-3303, or by email at: [email protected]. We look forward to serving you!