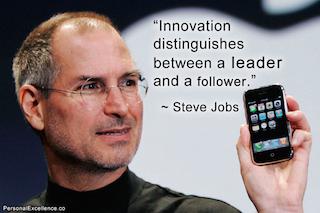 Are you one of the more than 20 million people who have already purchased an iPhone 6 or 6 Plus?
According to some financial gurus, Apple's iPhone 6 sales alone are producing 10% of all US economic growth.
This staggering statistic underlines just how critical it is to create a culture of innovation and risk-taking in business today. It's at the top of many a CEO's list. But this strategy begs for employees who don't have to have their hands held every step of the way.
Apple founder, Steve Jobs' famous commencement speech to the graduating class at Stanford in 2005 encouraged the graduates to be curious, to experiment, to trust their gut and to take risks. "Stay Hungry. Stay Foolish." is how he ended his speech.
The question is how do you develop a team that is comfortable enough to take those risks? To feel passionate enough to believe in their decisions, trust their gut and actually get excited about it?
Given our renewed infatuation with Apple and our new pop culture toy – the iPhone 6, we decided it would be worth re-exploring that elusive culture of innovation and risk. How do you create it? How do you keep it alive?
It's a complex question, but for now, let's start with these 4 proven ways to encourage a positive risk-taking culture:
Be transparent: managers who are aware of their business goals and challenges are more likely to capitalize on certain situations. They can make firm decisions that they confidently believe will impact the business in a positive way. Too many leaders hold information close, either to protect their employees or to keep it secure. Although certain things should be kept confidential, most business challenges are best shared – opening up the possibility of finding a solution where you least expect it.
Hire the entrepreneurial spirit: some people have a misconception that all entrepreneurs struggle to work within a corporate culture. That is not always the case. The best, most entrepreneurial leaders are self-motivated, and more willing to take risks – no matter their start-up or corporate experience. And almost always, they have the ability to get their colleagues excited. So keep an eye out for these traits during your interviewing and hiring process, because you most definitely want entrepreneurial thinking on your team.
Bring down the walls: if you hire individuals who have an entrepreneurial spirit, then you need to foster their personality in order to truly reap the rewards. Make sure they are aware of key business limitations, but encourage them to feel comfortable paving their own way. There may be instances where you don't foresee a positive outcome to an experimental venture. You may be tempted to change it or stop it. Sometimes, taking the risk of seeing an unstable project through to fruition can pay off. You may want to let a project run its course to see what the outcome might be.
Practice what you preach: if you are dedicated to fostering a culture of innovation and risk, then you have to stick to that philosophy and live it yourself. Are your employees comfortable in pitching a risky, but potentially great idea to you? Even if a past track record has shown that things can go wrong? When mistakes do happen, great leaders are conscious of their reactions. They coach their team accordingly and continue to encourage employees to take similar risks within the business – as long as it leverages past learnings. Educated, calculated risks are key for success.
Steve Jobs believed that "innovation distinguishes between a leader and a follower." Here's to all of your new hires being our world's next great leaders!
photo credit: Celestine Chua via photopin cc