At BlueSky Personnel Solutions, our team is still in celebration mode for our 20th anniversary, even as  we head into the last quarter of 2021. In looking back at key milestone moments from the past two decades, our staff chuckled recently about being slightly ahead of our time, having moved to a completely remote/work-from-home (WFH) structure – all the way back in 2018! Given the realities of this pandemic, doesn't 2018 feel like it was a lifetime ago? Still, here are some great lessons from that journey that are quite applicable to today's emerging hybrid workspaces.  😁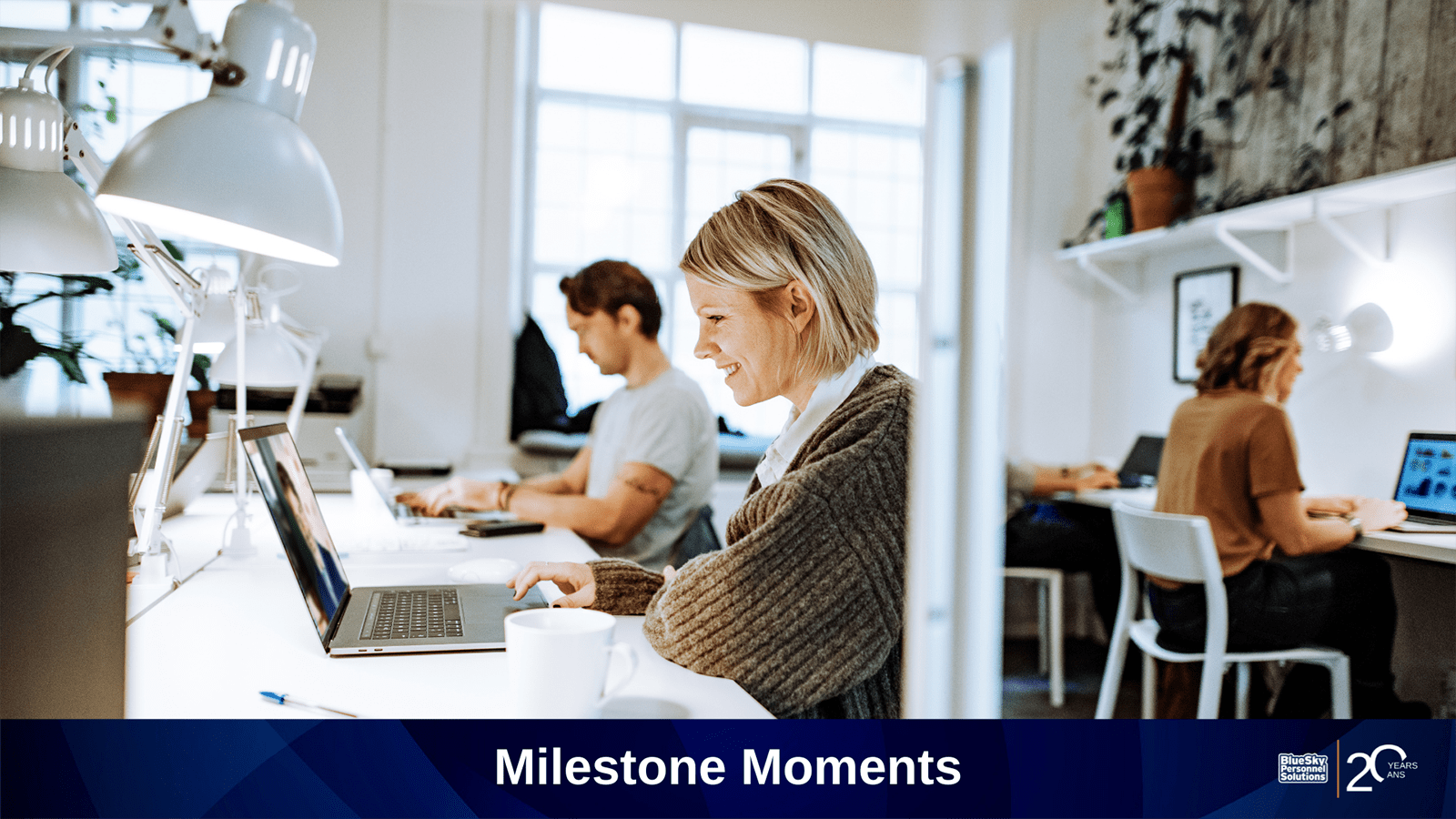 We still come across employers in the workplace today who are resistant to maintaining the WFH model or even transitioning to hybrid office spaces. As they make demands that employers come into the office on a full-time basis, we can definitively say, they will have challenges in finding top qualified Bilingual/French talent today. Candidates are simply not entertaining such inflexible offers, and with the talent shortage we have in the marketplace, they are quickly moving onto the next job opportunity. It begs the question for us – why be so rigid?
If employers are resistant to change, can we really expect our employees to be any different, after working from home consistently for the better part of the last year and a half?
Change is the most influential word to characterise our workspaces today.
Thankfully, many employers recognize both what talent are looking for today, and what is most beneficial to their business. That is why, the emerging hybrid workspace is on the minds of many company executives today – where we can all benefit from some social interaction, coming into the office 2 to 3 days a week, while still maintaining WFH privileges and flexibility.
In our own experience, when we first tested the WFH model with our full team in 2018, we discovered that our overall productivity actually increased. At BlueSky Personnel Solutions, we've never expected our staff to work after hours; we honour their work and life priorities. But it was easy for many team members to make a quick early morning call to a candidate, or to connect with a client after the working day was over, and our team felt completely comfortable to simply do what needed to be done. They valued the company's flexibility in our working arrangement, and we valued their commitment to producing results for our clients. It was a win-win across the board.
We've always been diligent about hiring self-starters for our team who need minimal daily supervision, and who are passionate about recruitment. So, we fully trust our team to complete their work. Perhaps this may be why we didn't see any adverse effects with WFH structures, but rather received more dedication from our staff. Our team camaraderie continued by way of social gatherings – like dinner after work. And we got so comfortable with each other working remotely, we can even admit that we jumped onto Zoom calls with each other from time to time, with zero make-up on. LOL!
Now, as the permanent WFH structures slowly morph into hybrid workspaces for this fall season, there are some noteworthy best practices that are worth considering. We decided to dive into the research out there, and collected our top finds to share them with you here:
Measure in-office work needs: Do your employees have to be in the office either daily, 2 or 3 times a week, or full-time? Take some time to audit those needs, so you know why this is or is not the case for various positions. This will help you to plan out how your new hybrid workspace can best serve your staff, and it will empower you to better communicate the value of these changes with your staff.
Give staff a reason to come into the office: Some people will benefit just from social interactions, but many others may prefer to work independently, or may not feel safe in social gatherings. This is where it's important to offer different spaces for different functions – e.g. a quiet space for some staff to get away and concentrate, or some dedicated "social spaces" that promote organic staff interactions. Consider flexible, re-configurable spaces with open desks that can be easily re-arranged for in-person meetings or hybrid/Zoom meetings, etc.
Give your team frequent updates: To give your employees a sense of control over their changing spaces, it's best to get into the habit of sending frequent updates – for example: communicating the safety measures you are taking, new and upcoming policies that are being announced, physical changes that are being made to workspaces, etc. Sometimes, the news may feel like it's too little to share, but in times of change (like the one we're in right now), over-communication can be a good thing. 
Check-in regularly with your team: be it virtual or in-person, it's really important to be intentional about regular check-in's, in both formal and informal manners. Often, this is simply about creating some space for employees to take their time and reflect upon their experiences, so they can become more self-aware, and share their sentiments with you. 
Be open to change even after other changes are implemented: today's hybrid workspace is a live experiment and there will be many things that companies will get right, but also many experiences that will also hold important lessons to be learned. As such, this is the time when we all have to be much more open to continuous change. Ask your employees what's working and what's not working in this new office set-up. Listen actively. And if further changes need to be made in response, so be it.
We used to say, "Carpe Diem" to inspire people to seize the day. In today's times, perhaps it would be more appropriate to say: "Seize the change." We certainly are experiencing lots of it! And at BlueSky Personnel Solutions, we believe in that change, lies lot of growth.
Cheers to your company's growth and success!
_____
If you're looking for exceptional Bilingual/French talent, give us a call today at: 416-236-3303, or email us at: [email protected]. We're networked with the best candidates across Canada. We look forward to serving you!