Earlier this year, I was interviewed by Kat Sieniuc, a reporter at the Globe & Mail about the benefits of part-time employment. While the article discussed the benefits of such work in various professions, it got me thinking about my clients who have expanded their businesses by hiring part-time employees first, before turning their jobs into full-time roles.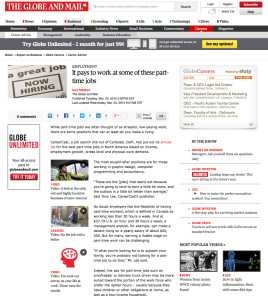 Part-time positions are often under-rated, and sometimes people tend to fall into an all-or-nothing mindset: full-time jobs or vacant positions. Their employees, as a result, have to cope with problems that come with being under-staffed, while businesses risk losing out on potential growth.
If you are not ready to take on the financial responsibility of hiring full-time positions, creating part-time roles in the interim can offer several benefits.
In today's work force, many talented workers are looking for part-time employment. From millenials who want to work while also pursuing their personal passions, to parents with young children working around school schedules, to post-retirees who have much intel to offer but want to work at their own pace, work-life balance is becoming increasingly important in our social culture. Part-time work fits into those lifestyles.
In addition, freelancers or consultants who want the freedom to work independently often have an impressive roster of client experience on their resume and can quickly jump into business expansion efforts with ease.
Consider part-time employment as a bridge to full-time employment with lower risk. It's a great way to "test-drive" a candidate before bringing them on full-time, and it can be a worthwhile strategy to grow your business.
If in-house HR management of part-time or full-time employees is too cumbersome within your organization, consider using our Human Resource Management (HRM) services.
Often referred to as "employee leasing," through this program, BlueSky Personnel Solutions assumes the "employer of record" responsibility for such positions, by entering into a co-employment relationship with you. You retain responsibility for hiring, workplace supervision and performance management, and we take care of the rest, including employment law and workplace compliance issues.
To learn more, give us a call today at: 416-236-3303, or email us at: [email protected].