Many businesses are doing some soul searching right now, trying to figure out what work life should look like post-pandemic. Should employees work from home three days a week, and come into the office for two? Can a completely remote workforce be viable, opening up talent beyond certain geographic limitations? With so much speculation about a mass exodus of employees post-pandemic, how can businesses properly prepare for what has commonly been coined: #TheGreatResignation?
This is the moment for many companies to ponder their next evolution. But how do you know when your business needs to evolve?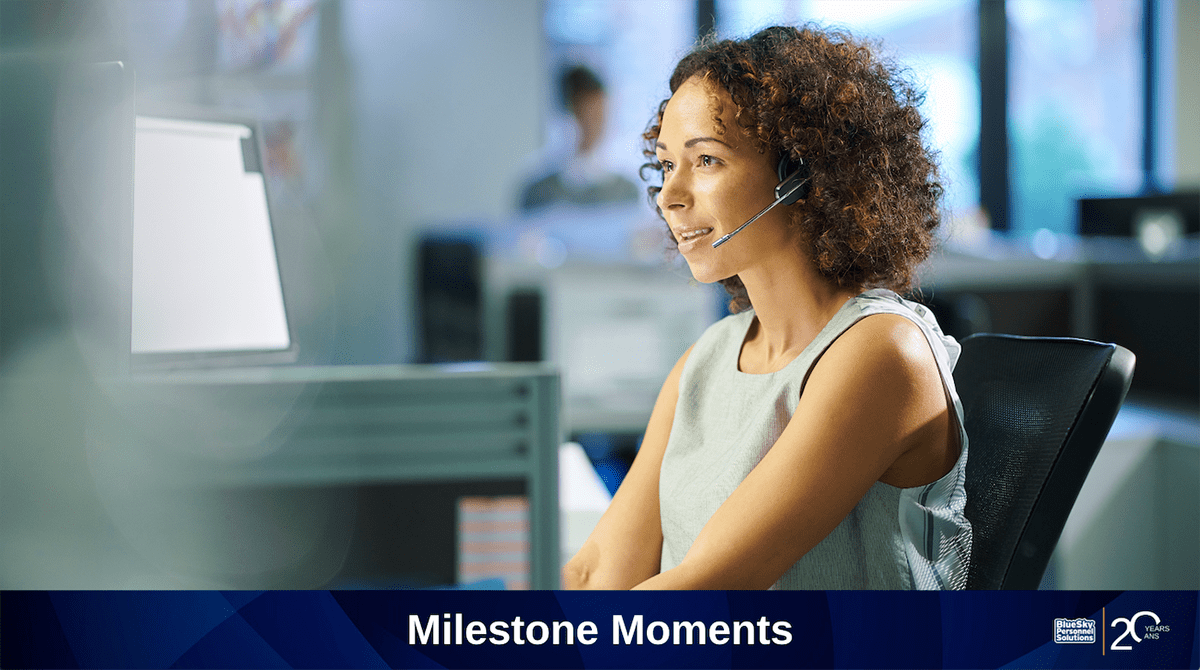 As BlueSky Personnel Solutions celebrates its 20th anniversary this year, we've been looking back at our journey to date and examining some pivotal moments that offer key lessons learned, from which we can all benefit. We're calling these "milestone moments" and 2013 had one such moment for us, when we knew it was time for our business to evolve. This milestone moment is reminiscent of the considerations many businesses are facing today:
While we had been doing Bilingual/French recruiting for our clients since we initially opened our doors in 2001, a little more than a decade later, we were beyond full with client requests. Moreover, candidates were calling into our office wanting to speak to staff in French, and some of the people on our team who were not bilingual simply couldn't help them.
We've always been mindful of this, because it can be frustrating for French-speaking individuals when they call into a company that offers services in both English and French, but they can't readily be served in their language of choice. Often, they have to speak in English to request that someone who speaks French call them back. Having worked in this industry for as long as I have, I can tell you, it is understandably one of French people's biggest pet peeves.
Now, when a company is expanding its reach into the Quebec market, it often starts with one Bilingual/French hire. That person becomes the designated person who can initially greet and service clients in French. We've helped many clients over the years to expand their business reach and revenue in this way. And as business grows, so do their Bilingual/French hires. It's a natural progression.
Our own journey was no different.
However, there comes a time in every business, where we must put a stake in the ground, and update our policies and practices to reflect how our offerings have evolved.
That was our moment in 2013, when we realized that our recruitment practice had evolved. Bilingual/French placements were no longer just a part of our offering. It was our offering. It was our core expertise. It was our specialization. It was what we are known for, and therefore, we needed to practice what we preach.
That year, we instilled a new hiring policy at our firm – that all of our staff, from our front reception to our senior leaders, needed to be bilingual – fluent in both English and French.
In making this move, we separated ourselves from many other fellow recruitment firms in the industry who offer Bilingual placements, but have only one or two designated Bilingual staff members to serve that need.
Today, we continue to stand out in the marketplace by having a 100% bilingual team.
Looking back now, we can say: Making that decision, and officially declaring our niched area of expertise as a Bilingual/French recruitment firm, was the best decision we've made.
But behind the scenes, we had many discussions and debate. Some of our team members had a fear of missing out on mainstream, unilingual opportunities. Their worry was that our business would suffer, and ultimately shrink, if we limited ourselves to such a narrow specialization.
It is natural of course to worry when making a move like this. However, we were doing so many Bilingual/French placements already, and we couldn't give our candidates the best service experience if we couldn't easily and effortlessly serve them in their language of choice. Not having a fully bilingual team also mean that our workload was not being equitably split across our employees.
What clearly stood out for us in our debates on this, was that language wasn't a detriment to our business – it was our strength. When we decided to fully embrace our niche, what we did was go deep. Now, we could fully walk our talk. And it gave our clients that much more reassurance that they had the best team working on their Bilingual/French recruitment needs.
In putting this stake in the ground and declaring that we were officially a Bilingual/French recruitment firm, our business grew so much faster than we ever expected. This focus became our growth catalyst.
That initial fear of missing out was also unfounded, given that, many of our clients who reach out to us for Bilingual/French placements, also end up asking us to fill their unilingual positions too!
Apple's Chief Design Office, Jonathan Ive once said: "It's very easy to be different but very difficult to be better." We couldn't agree more. When we considered the option of moving from being a general recruitment firm with a Bilingual/French specialty, to becoming a wholly Bilingual/French recruitment firm, we did so with an eye on where we were truly better in the marketplace. This wasn't about us needing to be different for the sake of it. We looked for where we had the greatest competencies for our clients, and then we fully stepped into that role.
Watch the video below to hear Julie describe her journey of how BlueSky Personnel Solutions became a firm dedicated to Bilingual/French recruitment: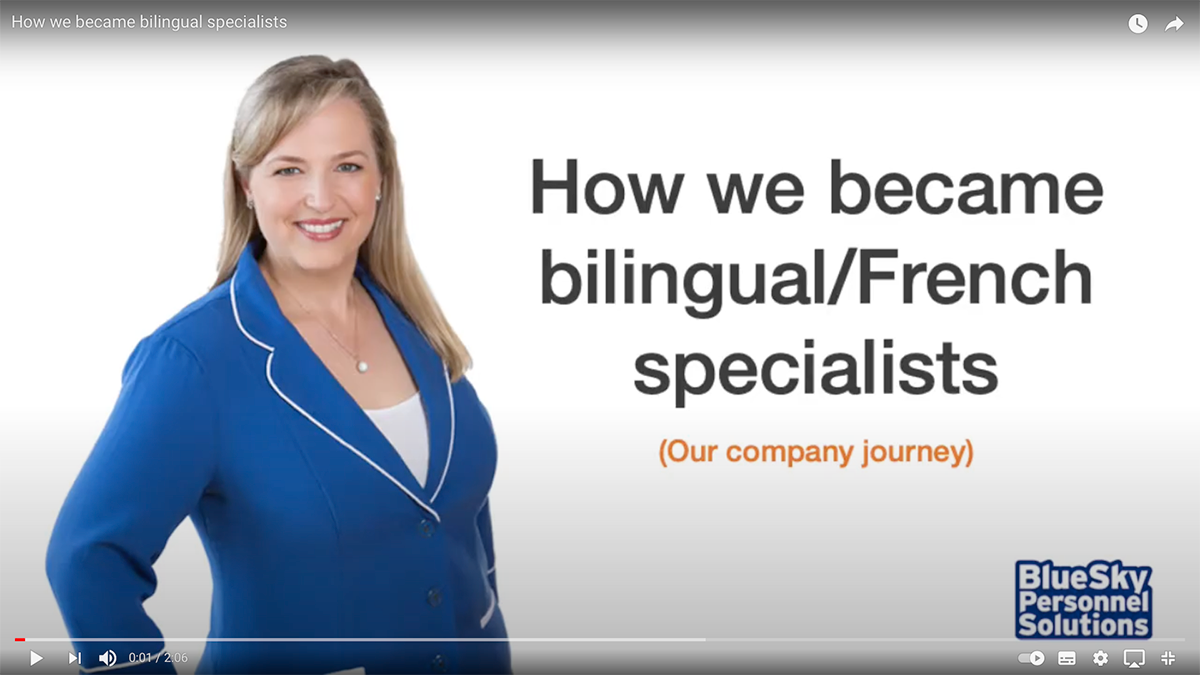 If you feel like your business is on the cusp of its next evolution, consider these questions below, to help you decide where you too, can put your stake in the ground:
Where is your company's core strength and competency? What work is highly valuable to your clients that feels easy to you and your team to do?
Where do your policies have to catch up to your evolving practices? What area of your business is experiencing the highest growth?
What are you known for to your clients and customers? Are you fully owning that positioning right now in your company?
What are you doing differently than your competitors, that makes your services/products than much better? Are you fully optimizing that growth potential? And are you communicating those selling features to your clients/customers?
Cheers to your evolving business success!
________
If you are in need of hiring Bilingual/French talent, contact us today. We are networked with Canada's top Bilingual/French talent and we can help you find your perfect fit. Call us at: 416-236-3303, or email us: [email protected]. We look forward to serving you!