Our clients often have one person as their key touch-point from our team, and don't always have the opportunity to get to know our other employees behind-the-scenes. In celebrating our 20th anniversary this year, we thought we'd change that.
Some of you already know and love our always-smiling Maryanne Mesic, Bilingual Personnel Consultant at BlueSky Personnel Solutions. But did you know, Maryanne actually completely changed her career when she joined our team 5 years ago? That's right – she came to us after working in the insurance industry for many years (and we are so glad for it!).
Here is our up close and personal Q&A with Maryanne – enjoy!
Q: It is exciting to think that you've been with our team here for 5 years. What attracted you to our company in the first place?
A: My initial attraction to BlueSky was, of course, the role itself. Working as a recruiter was definitely something I wanted to explore. It was a complete career change. I was coming from many years in the Insurance industry and this was a definite change and wonderful challenge. The role encompassed the skills I felt I already had as a relationship-builder, client service provider, researcher, assessor and being a good judge of character. I was pleasantly surprised after my first meeting with Julie and even more impressed after the 2nd Interview.  I was attracted by the organization's professionalism, its mission, and prominence in the recruitment industry. Here we are 5 years later for me, and 20 years of exemplary work at BlueSky Personnel Solutions to celebrate!
Q: How do you describe the work that you do to your friends?
A: I feel like we are matchmakers in a sense: We help our clients find that "perfect" candidate and we help our candidates find that "perfect" job. And all of this is done with lots of consideration on both ends. I love that BlueSky has a very strong client base and most of our clients have been working with Julie and our team for almost 20 years. This speaks volumes to the culture in our organization, dedication and quality of what we do. It's a lot of fun to work here too!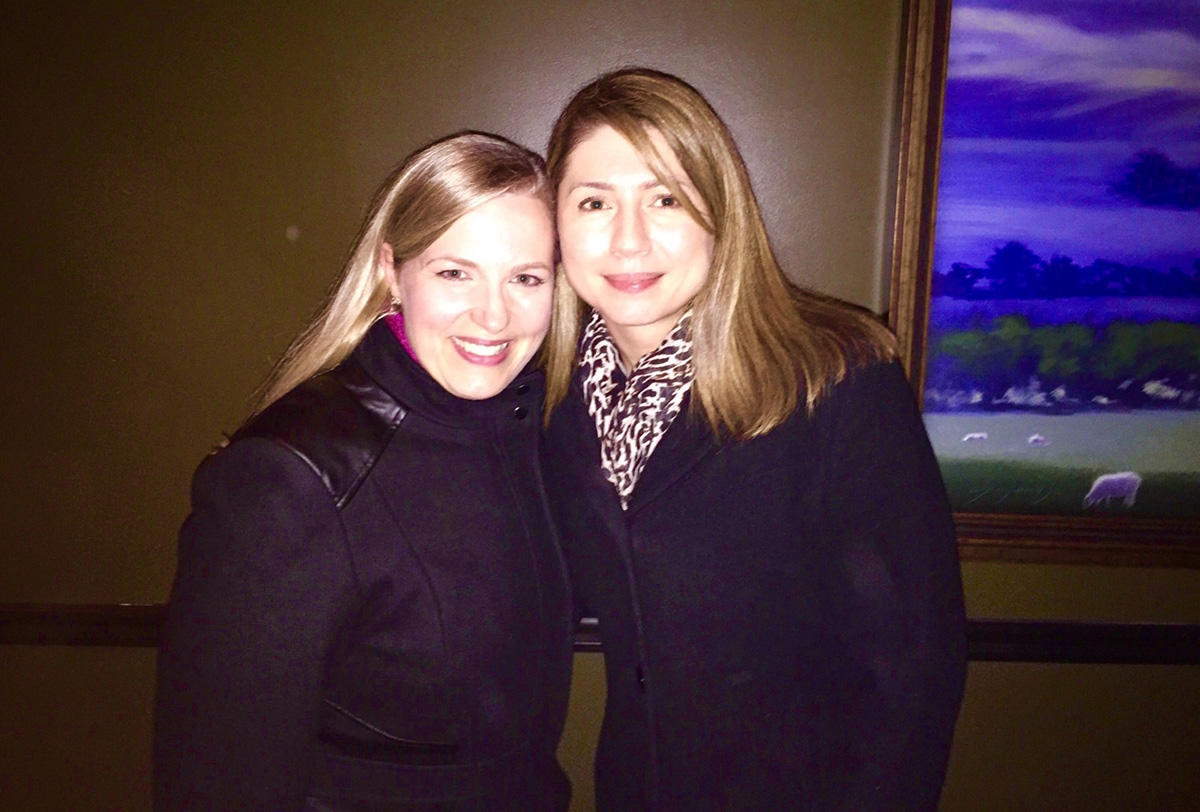 Q: What do you enjoy the most in your day-to-day work?
A: There are many different aspects to my role. I've found being an effective and efficient recruiter requires flexibility and a lot of adaptability. It involves in-depth research, relationship cultivating, candidate guidance, client management, and negotiation. For me, every day brings new challenges, new conversations and new adventures! I have to say what I enjoy most is a mixture of a few key elements. I love the behind-the-scenes work of researching and sourcing. I've always loved a good challenge and sourcing for that perfect candidate and finding them brings me a wonderful sense of accomplishment. Working alongside our clients on a daily basis is also a great pleasure. It brings a sense of us being part of their own actual teams, sharing in their milestones and successes and knowing too that we are an integral part of those successes.
Q: Why do you love this job personally?
A: In a results-driven industry such as recruitment, what I love most are the relationships I've made. One would believe it's all about numbers and getting those positions filled, and yes, this is important. However, over the years I've come to really value hearing my candidate success stories, of their continued happiness in their careers, promotions, goals and life changes they have experienced. It brings me a sense of "doing something good." Having worked with candidates on all different levels, from new graduates to senior executives, I've discovered that assisting and guiding candidates throughout their successful careers is extremely satisfying.  This is my #1 job perk!
Q: What has changed for you in the last 5 years of working with us?
A: Looking back to 5 years ago, I had a vision and a path in mind. It included exploring the world of recruitment, and much to my surprise it's become my new career. I've learned a lot about this industry, the importance of it and I have made it my own. BlueSky Personnel Solutions has enabled me to broaden my knowledge and also further enhance the skills I had. I'm proud of my accomplishments and proud to work for an organization with strong leadership, a vision and stability.
Q: What makes you most proud of the work we do
A: I'm extremely proud of our team and our business practices. Since day 1, this organization and our president, Julie Labrie, have ensured our path remains on track. We've adapted to industry trends and are always on top of what works well for our clients and our candidates. This is why we stand out, offering them our expertise and top-notch service. We recognize that the role we have can and does change people's lives.
We're the "introduction makers" and "relationship-builders." The client and candidate experience are of utmost importance to us. After all, life-changing decisions are made, and new careers are started each and every day. I'm proud to say what we do here at BlueSky, we do with passion, always keeping in mind the importance of our role and the quality of our service.
Q: To this end, what would you say makes BlueSky Personnel Solutions different from others in the industry?
A: Definitely, it's our niche expertise. We are Bilingual French/English Recruitment Specialists. Our entire team is bilingual, and this is essential to our success. Understanding our client needs and our client relationships as well as the candidate experience sets us apart from others. In our leadership, Julie is always on top of new trends and topics that affect our industry. Navigating through 2020 and COVID-19 has been challenging for a lot of our clients and candidates. We provided guidance and support to our clients as they worked through unprecedented times and changes, and ensured our candidates felt our understanding and compassion as many went through job losses and difficult job searches during the pandemic.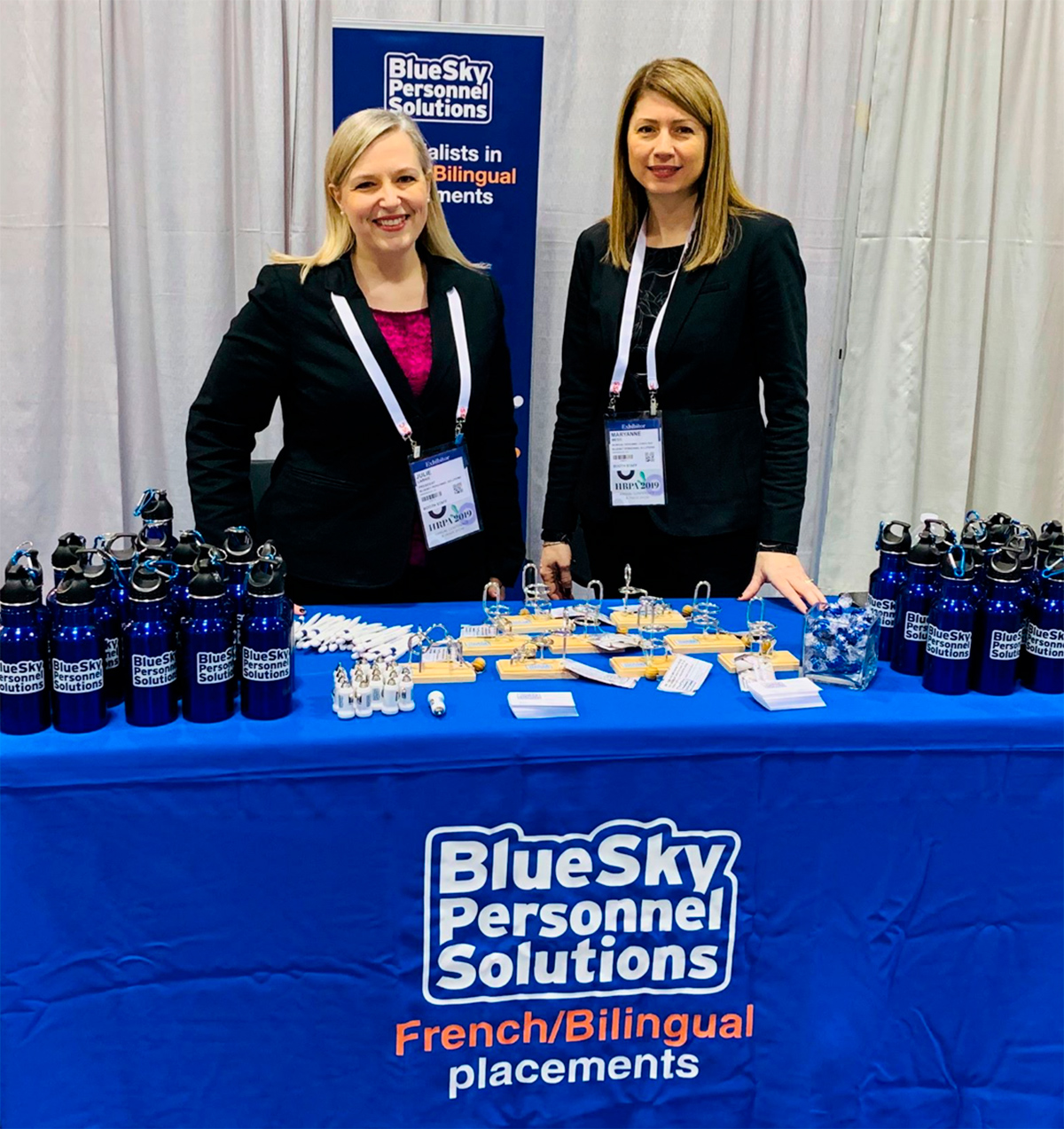 Q: Now, we can't complete this interview without asking you – do you have any funny or memorable moments that come to mind, thinking about your work?
A: Yes, for sure! There have been many!
My fondest moment: I'd have to say, it was our our trip to Orlando, Florida to attend an HR Recruitment conference. Not many people know this, but our president Julie is a huge Disney fan and has been to Disney Orlando more times than we can count! LOL! Our travels to the conference were great fun, and Julie made the trip extra fun with her singing of all the Disney songs she knows!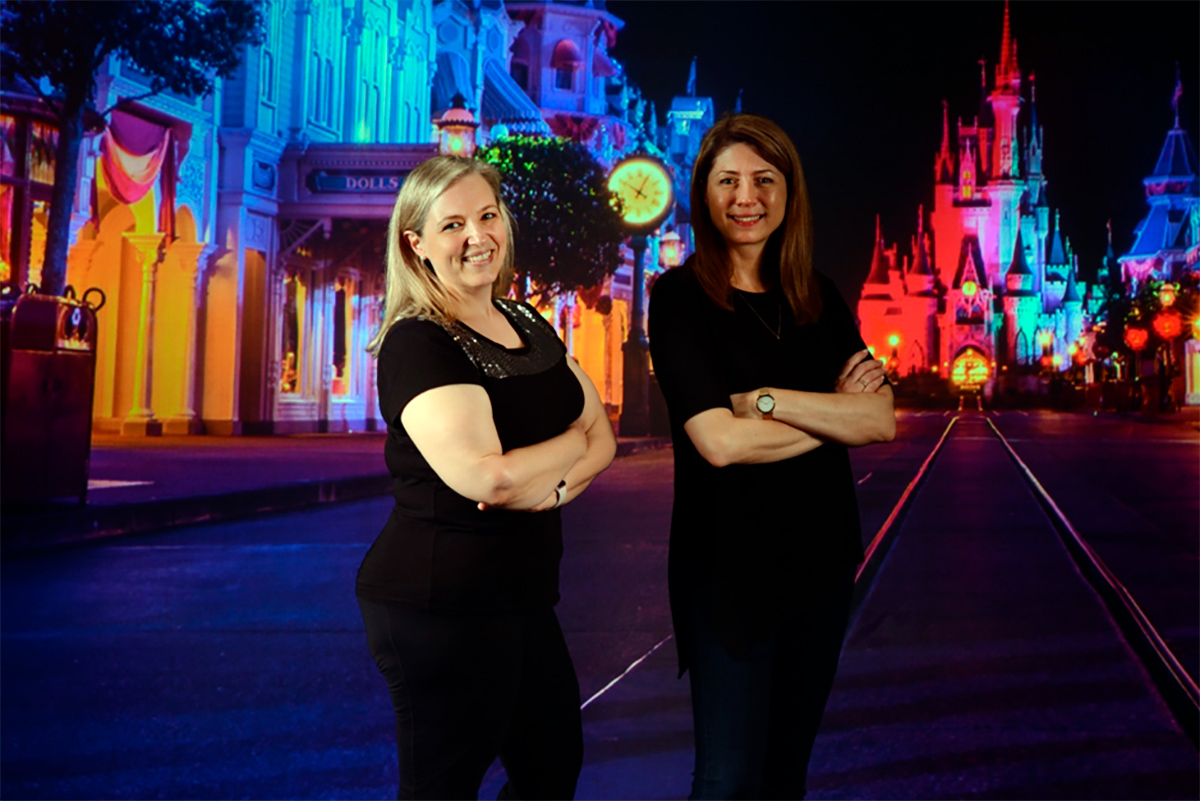 My fave candidate stories: I recall holding a Skype interview in my first year with BlueSky. A few minutes into the video call, I realized my candidate was still in her pyjamas and had not bothered to dress for the interview! In another instance, a candidate decided it would be a good idea to set up their laptop for an interview in their bedroom. Poor camera placement revealed someone was still asleep in the bed in the same room! Poor angle and poor judgement – yikes! Then there are the fun ones, candidates with small children, where the little ones just insist on being part of the interview. I always enjoy those!
My best client stories: Having built that trust and close relationships with our clients, I've had many clients come back to me and say, "My candidate is proving to be a superstar and a key player in their organization." Those are always unforgettable moments for me. I'd also consider big wins working with some of our more junior candidates and new graduates. Providing them with coaching and guidance and then seeing their success. I love witnessing their happiness when they land their first dream job! Those are always very inspiring!
Q: Any last thoughts you want to share?
A: Yes, I want to say: Congratulations to Julie and our BlueSky Personnel Solutions team on this 20th company anniversary. I'm honoured to be a member of this team and part of the success of this organization. I want to wish everyone many more years of continued success!
 ___________

If you want to connect with Maryanne for your French/Bilingual hiring needs, reach out to her at: 416-236-3303, ext. 224, or via email at: [email protected].
 You can also find Maryanne on Linkedin here.