One of the joys of working in recruitment is watching people find their calling, and grow into superstars in their careers.
It gives us such pleasure to witness this among our candidates, and we're even more elated when one of our very own rises through the ranks. One such story is that of our past employee, Milica Ivkovic, who joined us in 2009 fresh out of university. We knew she was a go-getter from the start, and that she was destined to shine.
As we've been celebrating our 20th anniversary in business this year, and interviewing some of our long-time clients, we had the chance to also catch up with Milica  – who is now living and working in Australia as a seasoned tech recruiter!
Watch this interview (see below too) as we take a trip down memory lane. Milica shares a behind-the-scenes look into what it's like to work at BlueSky Personnel Solutions, the greatest lessons she's taken away from her experience with our agency (that she still uses today!), and what challenges she is taking on today.
And, if you don't have time to watch the full video now, here are 3 of the most important things Milica says that she learned from working with Julie:
Clear inbox = well-serviced clients, and no stress: My mailbox is always empty at the end of the day. I either need to respond, put emails into my folders, or know what I'll be responding to in the morning.
Staying on top of every detail: I'm also very diligent about putting notes into the system. It allows us to service clients and candidates more attentively. And when working in bigger teams and sharing candidates, we are all on the same page.
Keeping our eyes on the long game: I am very relationship-driven and I learned that from Julie. I'm never transactional with clients, and it's never about a quick placement, ever. I always have our clients' best interest at heart.
(Milica, you make us proud and we couldn't agree with you more! Thank you for making time to celebrate with us and navigating across our vastly different time zones!)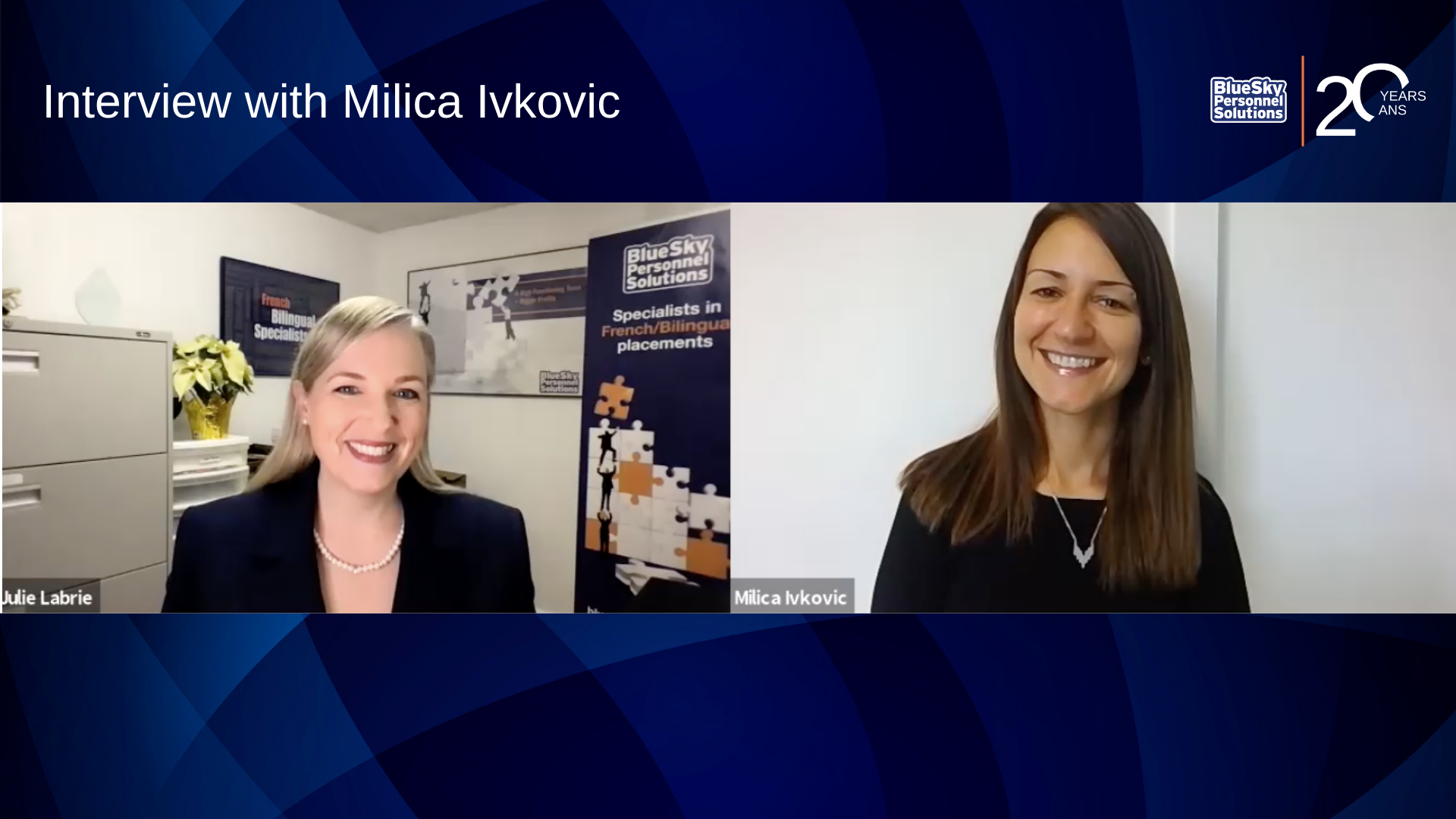 _____
If you're looking for Bilingual/French talent who are true superstars in their work, give us a call today at: 416-236-3303, or email us at: [email protected]. We're networked with the best candidates across Canada and we look forward to serving you!