Top Recruiter just named BlueSky Personnel Solutions as the #1 Agency in Toronto! Our very own Julie Labrie was also recognized as the #3 top recruiter in Canada
Top Recruiter received 350 nominations of exemplary recruiters from across the country. Recruitment agencies from coast to coast were judged for their business excellence. Client testimonials were carefully vetted for credibility. And in the end, the organizers of Top Recruiter set out to recognize our country's top 100 best.
The winners were just announced this afternoon, and we are thrilled to share:
BlueSky Personnel Solutions was named the #1 Agency in Toronto! And, our very own Julie Labrie made the podium on the national stage – being named  the #3 Top Recruiter in Canada.

It is a great honour to be recognized as the #1 agency in Toronto, and to also capture the #3 spot nationally," said Julie Labrie. "I want to extend my congratulations to my fellow winners too, show my appreciation for the Top Recruiter organizers, and I want to take this opportunity to thank all of my clients who have been so stellar to work with, and who have supported us in this competition."
Julie received some rave reviews from clients based on their experience working with our agency. Here are some highlights: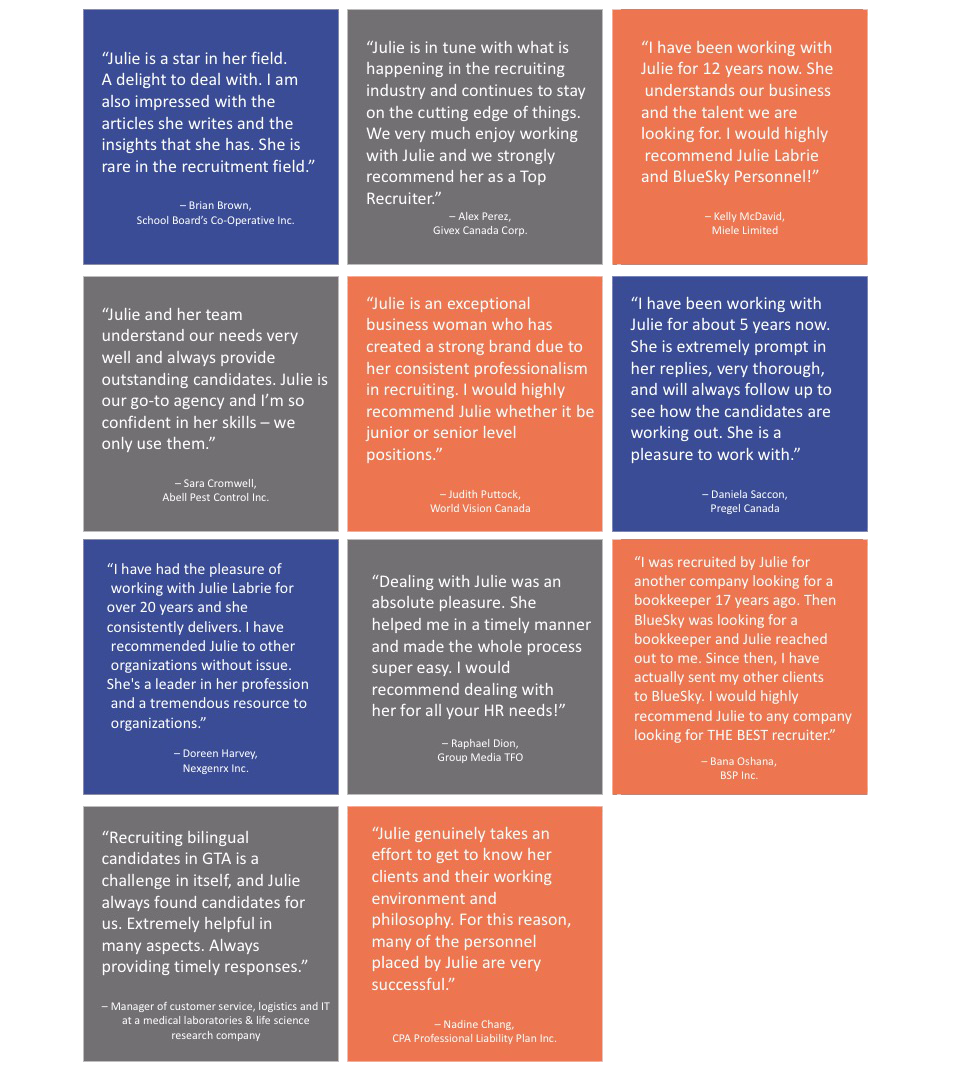 In case you were curious: the judging criteria for this awards competition was pretty rigorous. Here are the six areas that Top Recruiter identified for the competition's "top shelf" winners:
Authenticity: recruiters who work to align jobseekers' talents with work that can help them reach their individual purpose.
Professionalism: recruiters who deliver extraordinary service – to clients and candidates, even beyond the actual placement.
Genuine connection: recruiters who cultivate a deeply-connected network to reach niche talents in order to serve both hot markets and remote areas.
Trust: recruiters who have become recognized as the trusted, go-to vendor in their particular area of expertise, always using discretion and focusing on the best interests of everyone involved.
Passion: recruiters who demonstrate genuine enthusiasm for this industry, where they inspire others as well.
Performance: recruiters who have a proven track record of delivering exceptional quality in record time connecting company and candidate needs.
We share this top industry accolade with you as our clients, and are so grateful to be working with you!
– Maryanne, Lyne, Bev and the entire BlueSky Personnel Solutions team